Hey everyone!
Let's chat about something that's got us all excited – winter weddings in sunny Southern California! I'm all about capturing those picture-perfect moments, and today, we're diving into the nitty-gritty of winter wedding decorations. If you're planning to tie the knot during this iconic season, I've got some ideas that will make your celebration as cozy as a cup of cocoa by the fire. So, grab your pumpkin spice latte and let's get into it!
Jewel Tones for Winter Weddings

Imagine your wedding venue decorated in deep, rich colors that scream winter elegance. We're talking about jewel tones – think emerald greens, sapphire blues, and amethyst purples. These shades are like a warm blanket for your decor, adding a touch of luxury to your big day. From bridesmaids' dresses to table settings, infuse these rich hues throughout your winter wedding decor to create a stunning, seasonally appropriate, visual impact.
Winter Wedding Florals

Sure, we might not get snow, but Southern California has its own winter beauty. Embrace it with your florals! Opt for flowers like ranunculus, anemones, and hellebores to bring that winter charm to your arrangements. Because the weather is relatively mild in California, you'll have more of a variety to choose from than cooler geographic locations, so I highly recommend focusing moreso on creating a winter color platte with your florals. If you're feeling adventurous, throw in a pop of jewel-toned blossoms for that extra wow factor or create a more pastel "winter wonderland" vibe with icy blue and white blooms.
Want to go the extra mile? Add some pinecones, pine tree sprigs, eucalyptus, or holly!
Winter Wedding Decor Details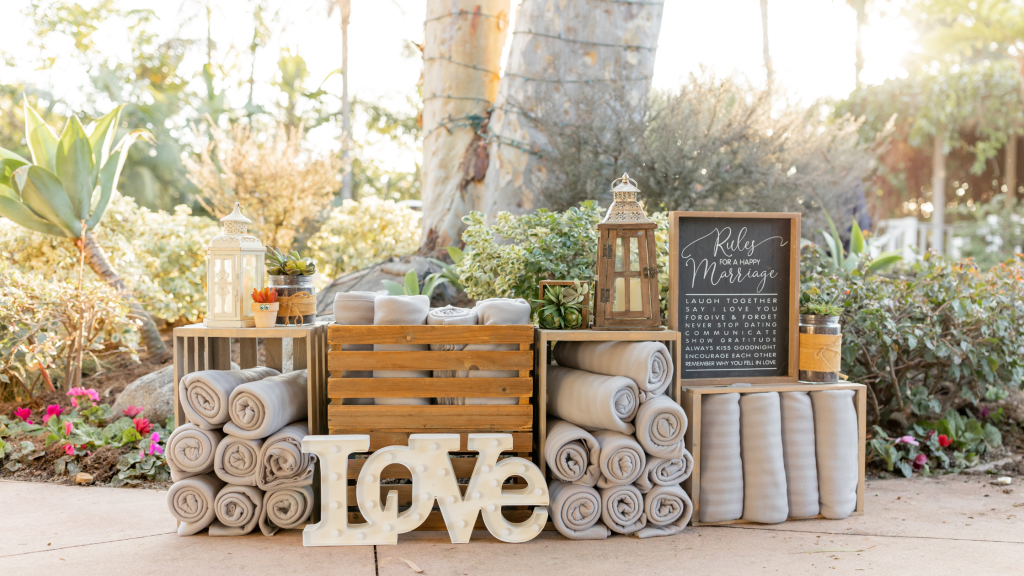 It's all in the details! There are so many small things you can do to spruce up your winter wedding decor. Bring a bit of the outdoors in with pinecone accents. They're like nature's confetti! Scatter them on tables or even use them for boutonnieres. If you're feeling crafty, add a little shimmer with some metallic paint – it's an easy DIY that elevates the whole look of your gorgeous, cozy, winter wedding decor. You could also create a "stay cozy" station for your guests as a facet of your winter wedding decor. This could include blankets for them to borrow, hand warmers, and even a hot cocoa station!
Candlelit Vibes for Your Winter Wedding

Winter nights are perfect for candlelight and bonfires. Whether you're saying your vows or having that first dance, the soft glow of candles adds instant romance and creates a super cozy, intimate atmosphere. Line the aisle with candles in jars or let centerpieces shine with flickering votives. It's a simple yet powerful way to set the mood. And, if you have an outdoor area available during your reception, there's nothing quite as romantic as a winter wedding reception bonfire with s'mores and hot cocoa.
Capturing Winter's Charm

As your wedding photographer, I'm all about capturing those genuine moments during your winter wedding. Let's work together to freeze those memories in time and create a visual story that you'll cherish forever.
Ready to turn your winter wedding dreams into reality? Let's connect and make your vision come alive! Click here to inquire about hiring me as your wedding photographer if you like the photos that have been featured throughout this blog post & if you're looking for more wedding inspiration, be sure to scroll through the rest of my blog posts here!
Stay warm & happy planning!
Shelby
{Catch me on Instagram for daily updates: @ShelbyDaniellePhotography & Pinterest for more of my Photography}