If you're dreaming of a wedding that perfectly blends breathtaking scenery, modern amenities, and a touch of luxury, thenlook no further than Wedgewood Wedding Venues in Southern California. With a collection of exquisite venues, each offering its own unique charm and allure, Wedgewood Weddings promises to make your special day an unforgettable experience. Let's take a closer look at these stunning venues that capture the essence of Southern California romance.
Galway Downs Wedgewood Wedding Venue – Temecula, CA
Nestled in the heart of the renowned SoCal wine country, Galway Downs Wedgewood Wedding Venue sets the stage for an enchanting celebration. This ranch-style wedding venue offers a perfect blend of rustic elegance and contemporary amenities, making it an idyllic choice for couples seeking a picturesque countryside setting.
The modernized barn, lovingly called 'the Carriage House,' will leave you in awe with its cathedral ceilings, panoramic window walls, and an oversized two-way fireplace. The spacious reception area provides ample room for guests to dance the night away, creating memories that will last a lifetime.
Whether you're a horse lover, a wine enthusiast, or simply captivated by the charm of the outdoors, Galway Downs will sweep you off your feet and spark a love affair with Southern California's natural beauty.
Aliso Viejo by Wedgewood Wedding – Aliso Viejo, CA
Tucked away in a secluded corner of Orange County, Aliso Viejo by Wedgewood Wedding is the epitome of modern luxury. This venue offers a generous hall with magnificent views, perfect for couples seeking a refined and relaxed setting for their big day.
The breathtaking views of Saddleback Mountain provide a stunning backdrop for your ceremony, while the high-end glass fire pit offers a cozy spot for you and your guests to unwind and enjoy the lush green valley scenery.
Whether you prefer an alfresco ceremony or an indoor celebration, Aliso Viejo has it all, making it an ideal sanctuary for savvy couples seeking a luxurious and picture-perfect venue.
The Retreat Venue by Wedgewood Weddings – Corona, CA
Perched high in the hills above Corona, The Retreat Venue by Wedgewood Weddings offers a private and exclusive sanctuary for couples seeking a dramatic and eye-catching setting for their wedding day.
The grand ballroom with its vaulted ceiling and the opulent lobby set the tone for an elegant celebration. Step outside to be enchanted by the world-famous wildflower valleys, where golden California poppies bloom each spring, creating a breathtaking backdrop for your special day.
The Spanish-style architecture adds a bold touch to the venue, while the fountain courtyards and outdoor fireplaces add a sense of grandeur and charm. The Retreat Venue is an ideal choice for couples looking to make a statement and create an unforgettable wedding experience.
The San Clemente Shore by Wedgewood Weddings – San Clemente, CA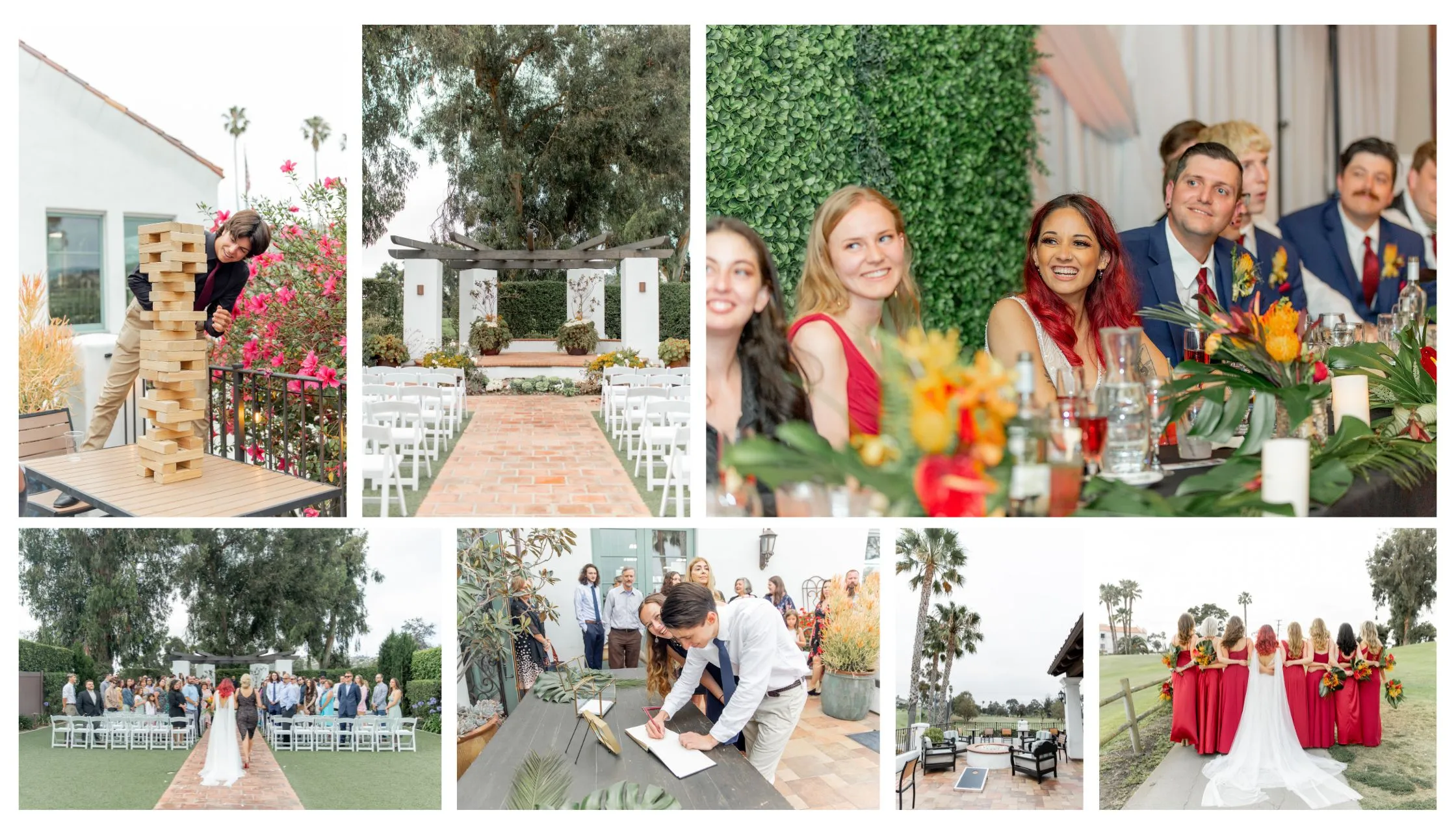 If you dream of exchanging vows with the gentle sound of ocean waves as your backdrop, The San Clemente Shore by Wedgewood Weddings is your SoCal sanctuary. This venue offers a double-height, stunning ballroom with exposed beams, providing a sense of elegance and charm.
The outdoor ceremony area allows you to say your "I dos" on the cusp of the ocean breeze, while your guests enjoy cocktails on the wrap-around balcony, taking in the breathtaking views.
The distinctive Spanish-style architecture, comfortable lounge area, and beautiful landscaping create a tranquil retreat in the heart of San Clemente. With Wedgewood Weddings' exceptional perks, including a hosted bar and award-winning food, your wedding day will be nothing short of perfection.
A Southern California Love Affair: Wedgewood Wedding Venues
From the picturesque countryside of Temecula to the secluded luxury of Aliso Viejo, the dramatic hills of Corona, and the coastal charm of San Clemente, Wedgewood Wedding Venues in Southern California offer an array of stunning options for couples seeking versatility and romance.
Whether you envision a rustic barn wedding, a modern and luxurious celebration, or a coastal retreat with ocean views, Wedgewood Weddings has the perfect venue to bring your dream wedding to life.
Let the enchanting beauty of Southern California be the backdrop for your love story, and let Wedgewood Wedding Venues set the stage for a day filled with love, laughter, and unforgettable memories. Say "I do" to a love affair with Wedgewood Weddings, and let the magic of Southern California weave its spell on your special day.
If you like the photos you've seen throughout this blog post, then you can get in touch with me here to shoot your wedding! Want to see more of my work? Check out my Instagram and Pinterest. 
And if you're looking for more SoCal wedding venue ideas, check the most recent installment of my "Best Southern California Wedding Venues" here.
Until next time!
Shelby