Hello, beautiful people!
Let's talk about wedding flat lay photos! Are you ready to take your wedding photography to the next level? Or perhaps you're a soon-to-be bride looking for ways to ensure your wedding details pop in your wedding album? Either way, you're in the right place! As a seasoned wedding professional with over a decade in the industry, I've got a treasure trove of tips to share for creating the most stunning fall wedding flat lay photos.
Flat Lay Wedding Photos Basics
If you're new to the term, "flat lay" refers to an overhead shot of various items arranged on a flat surface. This style of photography is absolutely perfect for capturing the subtle details and thematic elements of a wedding. Wedding flat lay photos can tell a beautiful story, and what better season than fall to tell a warm, cozy, and color-rich tale?
Key Items for Your Wedding Flat Lay Photos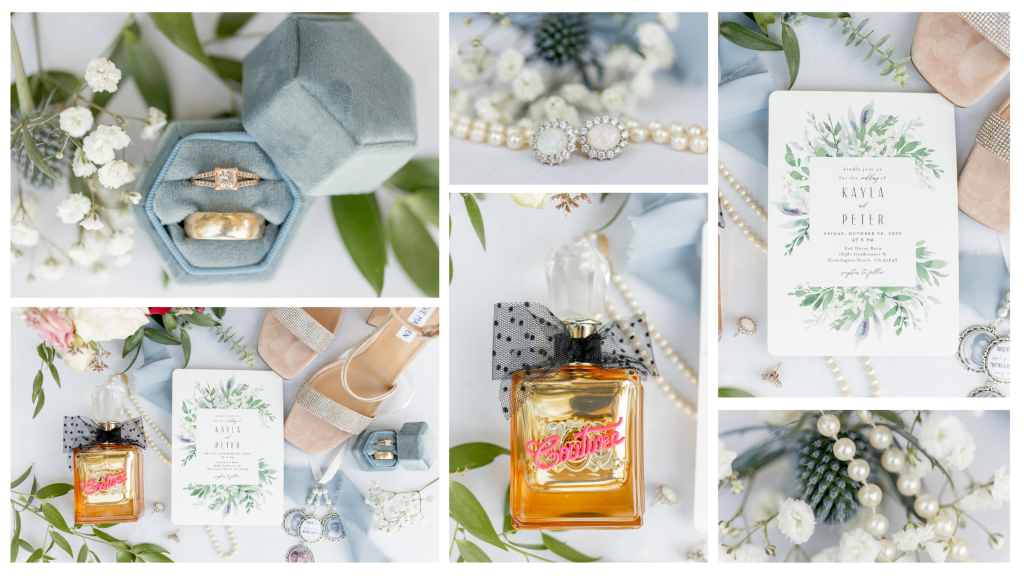 When planning a fall-themed wedding flat lay, consider including elements that evoke the essence of the season. Beautifully textured invitations, vintage stamps, antique rings, fall leaves, acorns, cinnamon sticks, or even a beloved grandma's hand-stitched handkerchief could find a place in your composition. Remember, each item adds a unique touch to the story you're telling about the wedding day.
Fall Wedding Flat Lay Colors
Fall is all about rich, warm hues – think burnt oranges, deep reds, golden yellows, and earthy browns. Don't be shy about incorporating these colors into your flat lay. They can be introduced subtly in the form of ribbons, envelopes, wax seals, or even elements of nature like fallen leaves or pine cones.
Lighting For Your Wedding Flat Lay Photos
Lighting plays a HUGE role in your flat lay photographs. It's often best to go with natural, soft lighting to maintain the warm, inviting feel of fall. Time your photoshoot for the "golden hours" (early morning or late afternoon) when the light is especially flattering. A tip for photographers: it's always smart to bring a few additional lighting solutions with you to the wedding as well just in case the lighting isn't favorable the day of the wedding! Don't let nature stop you from getting the perfect shot.
Composition
The arrangement of your flat lay is where your personal flair comes into play! Start with your largest items, then gradually layer in your smaller pieces. Keep it balanced but not too symmetrical. Remember, perfection is not the goal. It's about creating an appealing visual story.
Backdrop
Consider the backdrop as the canvas for your artwork. Textured linens, a rustic wood table, or an antique mirror can all serve as unique backdrops that add depth and dimension to your flat lay. For photographers, I highly recommend investing in a few different backdrop options that you can bring along to weddings with you just in case. You can bring fabric swatches, textured paper, or you can even find small square photo backdrops on amazon!
Extra Tip for Your Wedding Flat Lay Photos
One of the secrets to a successful flat lay photo is the height. Using small items like candles or ring boxes to prop up certain elements can add depth and interest to your shot.
Now, aren't you excited to create your own gorgeous fall wedding flat lay photos? Just remember to let your personality shine through and, above all else, have fun with it!
Still looking for a perfect wedding photographer? I'd be thrilled to capture your special moments! Click here to get in touch & learn more about my wedding photography packages. Or, if you're a photographer looking for tips on how to build your own wedding photography business, click here to learn more about my photographer education program!
And if you need more inspiration, don't forget to follow me on Instagram & Pinterest!
Until next time!
XOXO,
Shelby