Hello, loves!
Today we're going to dive into the wonderful world of outdoor engagement photos.
There's something absolutely magical about capturing the love and joy between two people about to embark on a lifetime journey together. And while there's no shortage of outdoor engagement photo ideas out there, why not make your session as unique as your love story? Today, I'm sharing some fabulous inspiration for unique outdoor engagement photos, drawing from some of my favorite shoots over the years.
Hobby Engagement Photos
What better way to share your story than incorporating your shared hobbies into your engagement photos? One of my favorite galleries is of a basketball-loving couple who decided to hit the court for their shoot. We had a blast capturing action shots of them playing one-on-one, candid laughter over missed shots, and, of course, a tender moment with the basketball held between them. It wasn't just a photo shoot; it was a celebration of their shared love for the sport and each other.
Playful Outdoor Engagement Photos
Why not embrace your inner child for your outdoor engagement photos? I had the absolute joy of photographing a couple who decided to let loose in a vast, grassy field. They ran around like carefree children, chased each other, and even staged a playful game of tag! The result? Photos that radiated pure joy, spontaneity, and the free-spirited love they shared.
Early Morning Beach Engagement Photos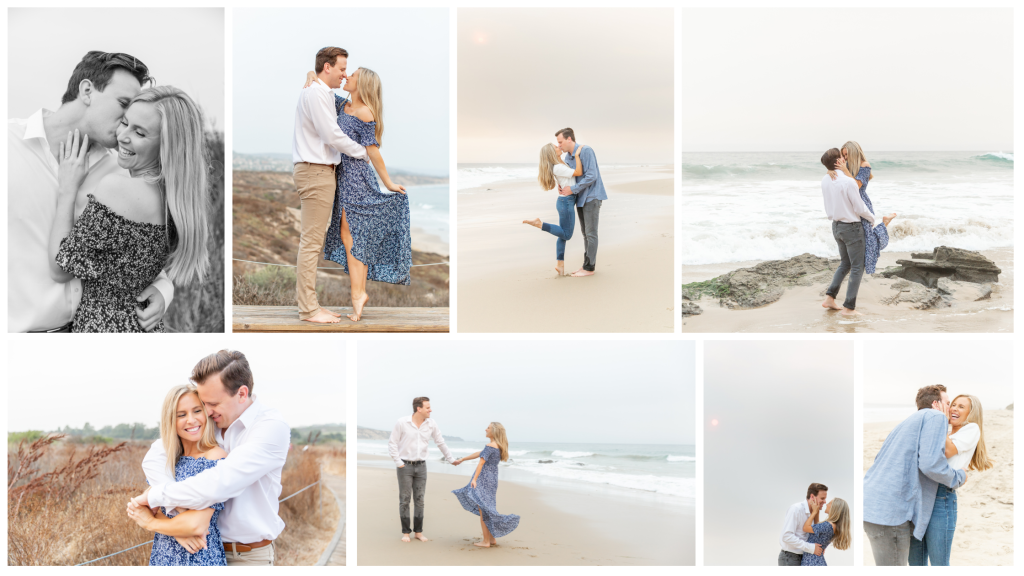 Sometimes, the best photos come from the simple idea of escaping the crowd. One couple decided to beat the sunrise for their engagement session at the beach. The decision couldn't have been more rewarding! Not only did we get the beach all to ourselves, but we also captured the serene moments of their love story against the beautiful backdrop of the early morning light. This idea is especially great for bride & grooms to be that are a bit shy in front of a crowd. If you opt for an earlier shoot time, you won't have to deal with as many on-lookers.
Engagement Photos With a Furry Friend
Our four-legged friends are more than pets; they're family! I had the privilege of photographing a couple who included their adorable husky in their engagement shoot. Their pup brought an additional touch of fun, love, and a hint of mischief to their photos. Plus, who can resist those adorable puppy eyes? If you have a fur baby, don't hesitate to ask your engagement photographer if you can bring them along for the ride! I'm sure they'll say yes, and if they don't, just get in touch with me 😉
Shared Passion Outdoor Engagement Photos
When a couple shares a unique passion, it can make for some truly epic engagement photos. I once worked with a couple with a mutual love for motorcycles. They took their photos with their beloved Harley, capturing moments on the road and their shared passion for the thrill of the ride. These photos were not only cool but also deeply personal, encapsulating a significant part of their love story.
No matter what unique idea you bring to the table for your outdoor engagement photos, remember that it's all about celebrating your love, your way. After all, these are more than just photos; they are the start of a beautiful adventure together! Looking for more engagement photo ideas? Here are some of my favorite outdoor engagement shoot locations & a checklist for before your session!
If you need a wedding photographer ready to embrace your unique ideas, I'm just a click away. Click here to learn more about my photography packages. And, of course, don't forget to check out my Instagram & Pinterest for more engagement photo inspiration!
XOXO,
Shelby